Twin Valley Bison: A little story behind these pictures.
<View Pictures>
Film 1
Film 2
Film 3
Film 4
Film 5
Film 6
Film 7
Film 8
Film 9
Film 10
In June of 2006 I flew from Minneapolis to Dallas to reach a connecting flight to Japan.  On the flight, I sat next to someone from Wisconsin named Sandy Bruder and also Sandy's daughter.   Sandy was flying to Dallas for a Bison trade show.  At the time, she had just started converting her family's dairy farm of 110 cows into a bison ranch to try and make better margins.   The milk industry has very small margins and a lot of competition.  While on the plane, she told me about her ranch and I also gave some marketing ideas.   She said I was welcome to come and see the ranch anytime.
On Saturday, March 24, Mayuko and I drove about 2 hours to Wisconsin to visit the Bison Ranch.   It was an extraordinary experience.  
The ranch is run almost entirely by Sandy and her daughter who both hold second jobs to help support the endeavor.   They also receive some help from Sandy's other three children all of whom are in their 20's.   Sandy has been running the farm by herself since her husband passed away in 1994 in a tractor accident.  When we went into the house, there was a giant bison head and a gun cabinet with hunting rifles etc….  Also, there was a new wood floor that Sandy had just finished building.
2006 was Twin Valley Bison's first year of Bison sales. Here is how it works: During the summer Sandy and her family grow corn and grass to feed the bison on their 360 Acres of land.  Then, they harvest it and put the grain into silo's to feed the cattle and horses during the winter.   During the last 6 months she also found a processor, packager, and distributor for the bison meat in addition to making some extraordinary recopies for bison sticks (similar to slim-jims but with only 50 calories and less fat).  When they are ready to sell the meat, they shoot the bison on their property and send it on a truck for processing (yes, she does all of this herself).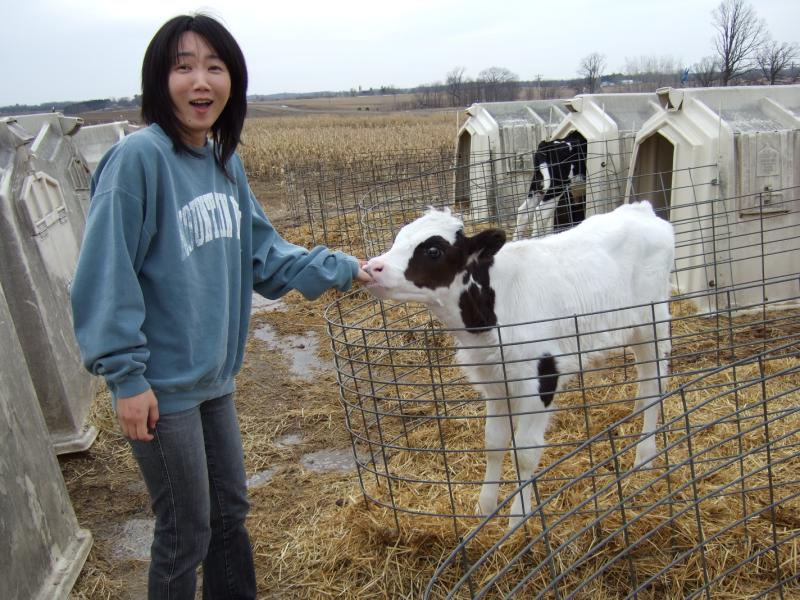 Unfortunately TVB they ran into a snag in December.  Their processor mislabeled the meat with a USDA circle instead of a Triangle.     Due to the labeling error, the FDA required all of the meat to be recalled even though the meat was completely fine, just labeled with a circle instead of a triangle.  You can find out more about the recall here.  Sandy is hoping the processor (who is responsible for the mistake) will help pay for the recall. The distributor also reviewed their farm and gave them an excellent rating.  As soon as Sandy finds a new processor, they should be back in business. 
Anyway, the bison meat is very good.  While at the ranch, we got to see the chickens, bison, pigs and horses.  Then we went to help with the second Job of feeding all of the baby calf's (some born that day) at a nearby milk farm.  I learned  a lot about the milk industry and had a great time.  We returned home around 9 PM exhausted and covered in mud.   I can't imaging having to get up at 5:00 AM the next morning!!
On the way out, we were given a gift of Bison meat, bison sticks, fresh eggs laid that day by the chickens, and a giant bottle of home-made maple syrup harvested  from the local maple tree's.
If you would like to order some bison meat online you can go to http://www.twinvalleybison.biz/.  The 1-877 number goes directly to her house, so she may not be there to answer, but she will return your call. 
<View Pictures>
, 
Film 1
Film 2
Film 3
Film 4
Film 5
Film 6
Film 7
Film 8
Film 9
Film 10